September 28th, 2012
Perhaps it's because we have Halloween coming up, and shorter, cooler (DARKER) days, but I always get in the mood for some spooky reads around this time of year.
Two novels I've downloaded to read are Joe Hill's HEART SHAPED BOX.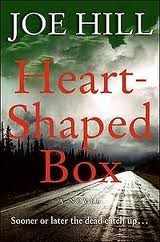 Also, THOSE ACROSS THE RIVER by Christopher Buehlman, which I saw is being adapted for film.
I've wanted to read both for a long while.
How about you? Any recommendations?